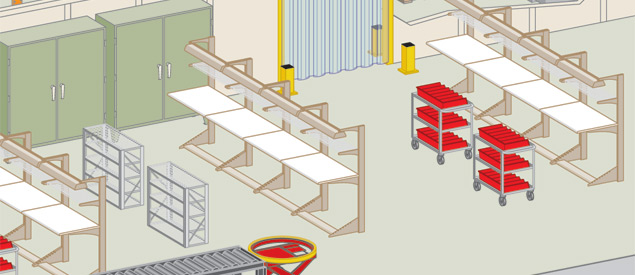 Heavy-Duty Industrial Workbenches and Workstations
Consultation | Design | Installation | Project Management
Heavy Duty Industrial Workbenches and Workstations are an integral part of many manufacturing work areas and may be used for assembly, packaging, customer service, welding, repair, or inspection. An adequately designed heavy-duty industrial workbench or workstation will make all the difference in creating the most productive work environment possible.
Cranston Material Handling of Pittsburgh offers many workstation options from choice manufacturers.  Our experts assess your needs and help you examine available features such as layout, storage, height adjustment, and accessories, all of which will best optimize flexibility, employee production, and employee wellness.
Types of Heavy-Duty Industrial Workbenches and Workstations
Assembly and Inspection
Assembly and Inspection workstations focus on productivity. Your workers need access to components while minimizing repetitive motions. Workstations should be ergonomically designed to include accessories that assist in preventing strain. Workstations benefit productivity and overall profitability by providing adjustability, a convenient working height, and options that can place tools and other items within reach of the operator.
Customer Service
Customer Service workstations should be efficient while providing a professional appearance.  A workstation with all of the necessary items to do the job, along with a neat and organized appearance, will give customers a good impression.
Laboratory
Laboratory workstations require tops and surfaces that resist harsh chemicals and provide plenty of storage and shelf space, typically necessary for lab environments.
Shipping and Receiving
Shipping and Receiving workstations should manage outgoing and incoming parcels with ease and efficiency. To increase the size of your work area, an upper document shelf can hold binders or supplies above the work surface but still within comfortable reach. Additionally, monitor and keyboard attachments can pivot for optimum location.
Mobile
Mobile workstations provide maximum flexibility, which can be reconfigured as your workflow changes. Mobile workstations offer convenience because they can be moved directly to the area where the work needs to be accomplished.
Packaging
Packaging workstations must be neat and organized to correctly prepare your products for shipping. Overhead carton storage and a middle-level document shelf provide storage for the most common cartons and supplies. Workstations can store rolls above or below the table within easy reach of the packer.