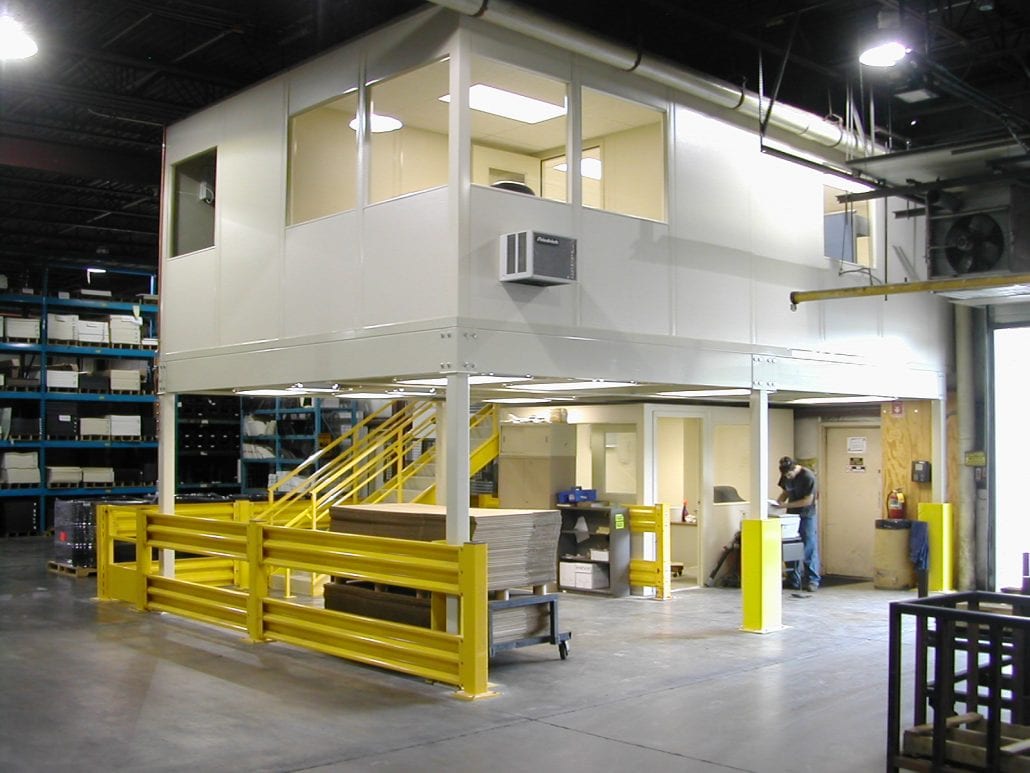 Modular Warehouse Offices
Consultation | Design | Installation | Project Management
Cranston Material Handling Equipment Corp. specializes in consulting, designing, and installing modular warehouse offices. Our team can manage your project from start to finish, reducing the workload for your internal team.
Located in Pittsburgh, Pennsylvania, CMHEC has over 60 years of experience in the material handling industry. Our hundreds of projects have established us as experts in laying out, designing, and installing modular buildings. We can maximize your existing space to increase efficiency, safety, and productivity. The breadth of our knowledge and experience gives us insight into how best to solve the unique challenges posed by existing floor plans and material flow patterns.
If you're considering adding utility and efficiency to your warehouse with a modular office system, contact us today.
Modular Warehouse Office Construction
Consultation
Every business is unique, and so is every space. With 60+ years of experience in the material handling industry, we've seen and solved many challenges. If you're looking for insight into maximizing the efficiency and utility of your space – Cranston Material Handling can help.
If you know you need to make a change but would like a second set of eyes to help you plan your improvements; you can trust us to bring ideas to the table. We're happy to look at your space with you and help you find the right solution.
Installation
Once you're happy with the design, we can install your new space if you prefer not to utilize or strain your internal team with the additional workload.
Design 
If you know how you want to optimize your current space but need help with design, we can help. Our team has helped design and build modular office solutions to increase office space, storage space, prevent loss, and improve product quality. Whatever your objective is, Cranston Material Handling is happy to work with you to design the right solution to fit your needs.
Project Management
Prefer the hands-off approach?
We can manage your project for you from start to finish, providing you with a complete package including options such as flooring, wiring, HVAC systems, noise-reducing rooftop insulation batts, and perimeter safety barriers to protect the building.  We can relieve the pressure from your team by eliminating the need to contact and hire additional contractors or tie up the time of your busy maintenance department.
Types Of Modular Warehouse Offices
Change Your Space To Fit Your Needs
In-Plant Office & Storage
All The Versatility Of An In-Plant Office With The Storage You Need
Preserve Floor Space With A Mezzanine & A Second Story Office
Get More Versatility In The Same Space With Multiple Story Office Options
Customize Your Space With Additional Wall Panels & Partitions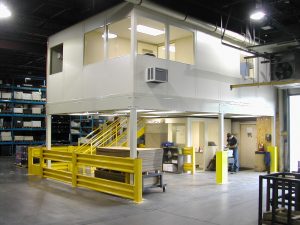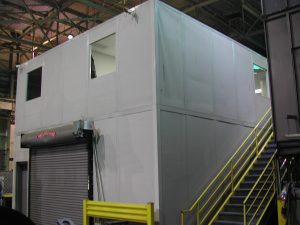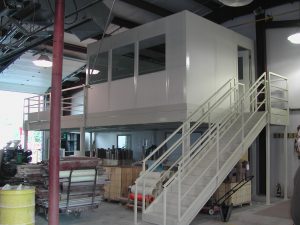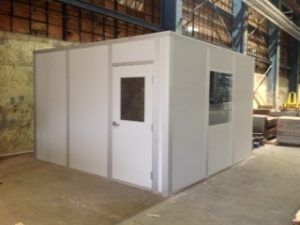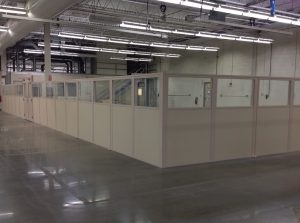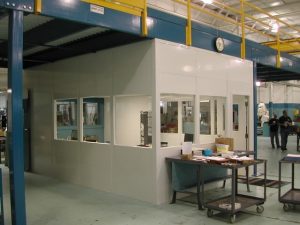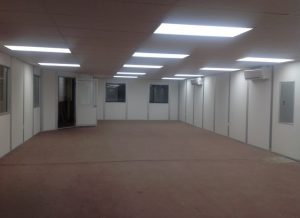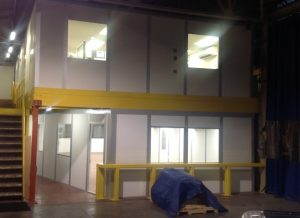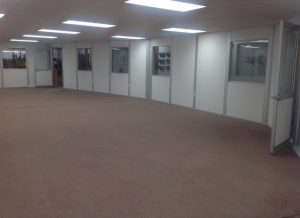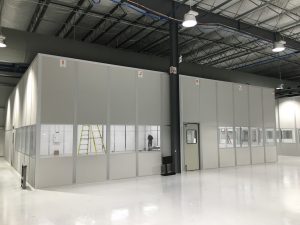 Benefits of Modular Warehouse Offices
Unlimited Sizes

Quick Turn Around

Clean Installation

Privacy
Fire Resistant

Noise Reduction

Aesthetically Pleasing

Clean Workspace
Easy to Maintain

Prevent Loss

Increase Productivity

Temperature Controlled
Applications of Modular Warehouse Offices
Break rooms

Calibration rooms

Clean rooms

Conference rooms

Control rooms

Environmental enclosures

Guard booths
Inspection rooms

Laboratories

Machine enclosures

Offices

Paint process enclosures

Parts storage rooms

Printing rooms
Production rooms

Quality control rooms

Security offices

Shipping offices

Sound barriers

Supervisor offices

Warehouse offices
Modular Warehouse Office Cost
The costs of modular warehouse offices will vary based on your requirements. Generally, the investment required is between $70-$120 per square foot. For multiple stories, mezzanines, storage installations, or very small buildings, the price per square foot may increase.
For a free price proposal including a drawing of the proposed building, reach out to our sales team today. We're happy to work with you to help you understand your options so that you can fit the required investment into your budget.
Why You Should Choose Cranston Material Handling To Design, Construct, & Install Your Modular Warehouse Office
We can help find the right solution to fit in the space you have available.


We've been serving Western Pennsylvania, and the rest of the country from Pittsburgh since 1957.


We're happy to install your new space, including wiring, HVAC, & floor coverings for you.


Sometimes you don't have the bandwidth to take on another project. Our team can manage the details, so you can stay focused on your work.


We have built our business on trust and personal relationships. Consistently meeting client's expectations means most of our business comes from repeat customers.
We've seen alot since 1957 and are known as professional problem solvers. Rely on us to provide the right products to meet your specific need.


Contact Us About Your Modular Warehouse Office Project
We're Proud To Carry High Quality Products From These Manufacturers