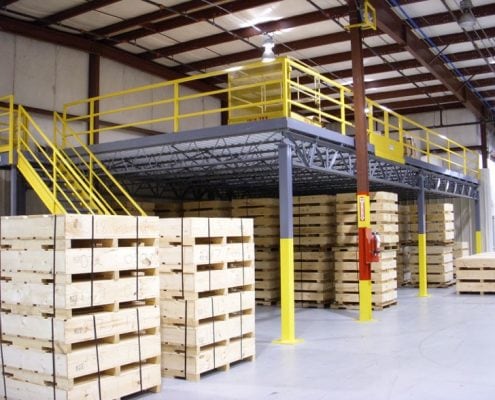 WAREHOUSE MEZZANINE SYSTEMS
Pittsburgh, PA
Consultation | Design | Installation | Project Management
Freestanding Steel Mezzanine Systems allow you to add new floor space in your existing facility. By taking advantage of areas in your plant where the ceiling height is more than 16' high, you can create an entirely new floor level, perfect for additional storage, production, and offices.
Most importantly, warehouse mezzanines can be a way to evolve your space to fit your needs better.  Also, it can keep you from outgrowing your facility before you're ready to move or construct a larger building.
Increase Your Space with a Mezzanine Work Platform
Mezzanine work platforms are constructed to meet your specific needs. The clear height above or below the mezzanine is designed to fit your headroom requirements. The floor surface is made of ResinDek, plywood, bar grating, or steel plate based on the needs of your operation. Access to the mezzanine level is achieved with a combination of stairs, gates, and powered material lifts.
Cranston Material Handling of Pittsburgh, Pennsylvania has decades of experience in designing and installing mezzanine floor systems for our clients. Flexible, cost-effective, and installed in a short period of time, mezzanines let you expand and grow your business operations while staying in your current location.
Types Of Warehouse Steel Mezzanine Systems
Free Standing Mezzanine
Free Standing Mezzanines have support columns that are positioned under the floor structure in locations that minimize interference with your operations. This provides for the greatest flexibility in how you arrange workflow and storage both under and on the mezzanine.
Equipment and Work Platforms
Allows you to place or service equipment above your work area. The equipment can be feeding the operation below or installed on the mezzanine above to free up valuable floor space. Platforms can be used to maintain machinery or allow employees to safely gain access to elevated process equipment.
Rack or Shelving Supported Mezzanine
Utilizes your existing or soon-to-be installed racking or shelving, as the support structure for your system. This provides high-density storage at a lower cost.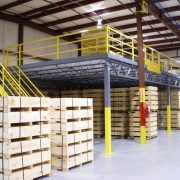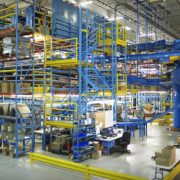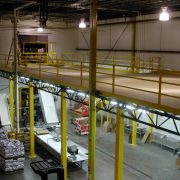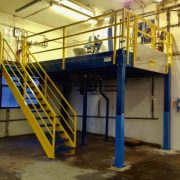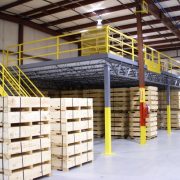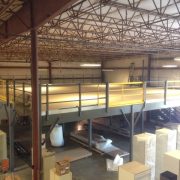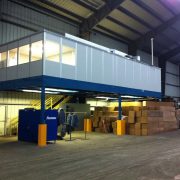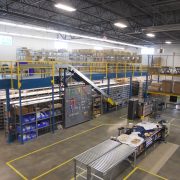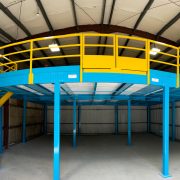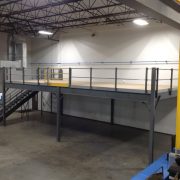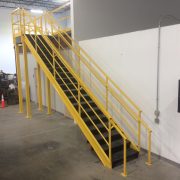 Benefits of Industrial Mezzanine Systems
Cost-Effective

Flexible Designs

Installs Quickly

Accelerated Depreciation
Creates Floor Space

Aesthetically Pleasing

Increased Storage

Improved Operations
Elimates Need for Relocation

Customizable

Increase Productivity

Improves Access
Mezzanine Applications Include:
Warehouse Storage Mezzanines

Distribution Center Mezzanines
Production Equipment Mezzanines

Maintenance Platforms
Elevated Office Platforms

Parts Room Mezzanine
What We Provide As A Mezzanine Supplier
Mezzanine Layout, Design, and Installation are what Cranston Material Handling of Pittsburgh, Pennsylvania does best. We work hard to ensure that your mezzanine fits your facility like a glove, so that your operation can be as productive as possible.
Our Cranston team starts by listening to your needs and taking detailed notes. We take into consideration the dimensions of your existing space, obstructions, and the other criteria. Based on our experience we develop a design to meet your needs and efficiently overcome any challenges. Once the plan is agreed upon, engineered drawings are provided to ensure the integrity of the system and confirm that all obstructions have been considered and accounted for. We then install the mezzanine with as little disruption as possible to your day-to-day business.
Contact Us About Your Industrial Mezzanine Needs
We're Proud To Carry High Quality Products From These Manufacturers