The Client
Founded 1902, Byrnes & Kiefer Company (B&K) started out as a baking supply business providing molasses, baking powder, flour and other products to customers in Pittsburgh and the surrounding area. A growing success, B&K steadily expanded over the decades to include an extensive array of baking supplies and baked goods under several brand names.
Today, B&K has become a national company headquartered out of a 60,000-square-foot facility in Callery, Pennsylvania where they have consolidated production of their over 300 artisan bakery products.
The Challenge
A family-owned business to this day, B&K stakes its long reputation on the quality of its baked goods. This means using the best ingredients and preparing them in a modern facility designed for easy cleaning and contamination prevention.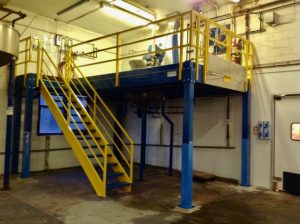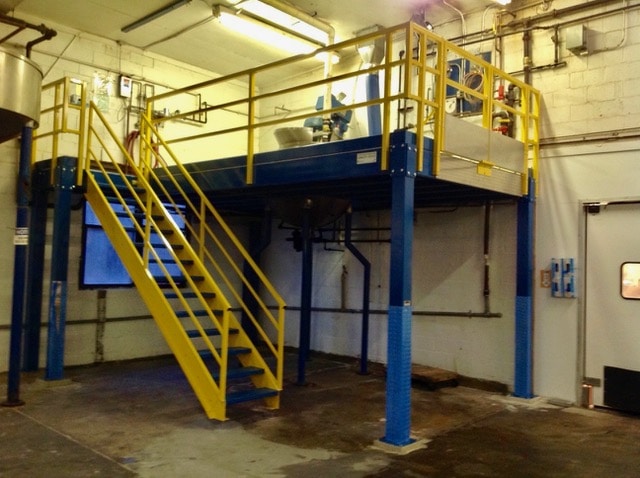 At their Callery facility they needed a new set up for one of their giant, industrial mixers. Surrounded by a mezzanine platform that just wasn't cutting it, the mixer needed a better space for pallets of ingredients to be loaded that could be regularly accessible by personnel and, vitally, to be free of any contamination build up on framing components. Specifically, everything had to be easy to drain and dry after cleaning.
The Solution
Although a new customer, Cranston Material Handling Equipment Corp. (Cranston) of Pittsburgh had the perfect background to solve this problem
As a third-generation business founded in 1957, Cranston toured B&K's facility and reviewed the issue with their decades of experience.
"They needed a platform that would minimize the opportunity for any contamination to build up around the mixer," said David Cranston Sr. "I knew immediately that we could create perfect solution for them."
Cranston took detailed dimensions and developed drawings to define exactly how the ideal platform would accommodate the utilities attached to the equipment, the pallets of ingredients and staff access.
The solution was a Cubic Designs equipment platform installed around the existing mixer. Easy to reach by the wide stairs and with forklift access for palettes of ingredients, the Cubic Designs platform makes it simple for staff to monitor the mixing process, add ingredients and, most importantly, thoroughly clean and dry the equipment.
Additionally, aluminum plating was added to the pallet loading gate and the platform support columns to prevent any paint from chipping and potentially contaminating the mixer.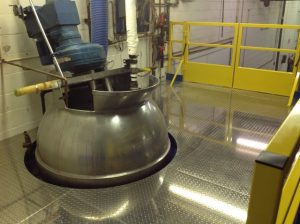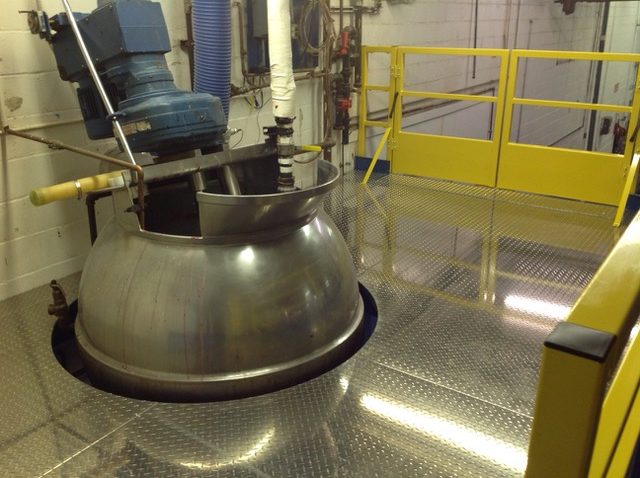 The Result
Installed on time and on budget, B&K was very pleased with Cranston's finished work. Not only is the mixer easy to access for personnel and pallets of ingredients, but both it and the platform itself drain perfectly for the end-of-production wash down.
Find Out More
Cranston Material Handling Equipment Corp. looks at your material handling or storage application through the lens of decades of experience. Whatever you're specific needs we can help you sort through options to maximize your workspace. Contact us for more information today at cranston-material-handling-equipment.com or 412-741-8060.
https://www.cranston-material-handling-equipment.com/wp-content/uploads/2017/08/image2-e1503586672811.jpg
478
640
Cranston Material Handling Equipment
https://www.cranston-material-handling-equipment.com/wp-content/uploads/2017/03/cr-logo.png
Cranston Material Handling Equipment
2017-08-24 15:03:39
2021-07-01 15:45:16
Cubic Designs equipment platform for Byrnes & Kiefer Company